Zachary Bortz
(September 25, 1941 - September 9, 1999) is one of the main characters in
Zachary, Grace and Lexia
. He is voiced by Regan Burns.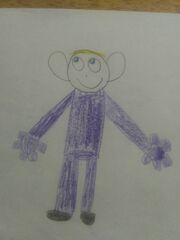 Personal details
Born: September 25, 1941
Glendale, California
Died: September 9, 1999 (age 57)
Glendale, California
Cause of Death: Pneumonia
Resting Place: Chapel of the Chimes
Oakland, California
Death, funeral and burial
Edit
On August 28, 1999, Zachary was rushed to Glendale Adventist Medical Center after he started breathing heavily and was diagnosed with pneumonia. He died twelve days later on September 9, sixteen days before his fifty-eighth birthday.
On September 20, 1999, the fifty-eighth birthday of his housemate Ainsley, his funeral was held at the funeral home at the Chapel of the Chimes in Oakland, California.
He was interred in the Admiration section at the Chapel of the Chimes in Oakland, California.
Gravestone
Edit
TBA
Other appearances
Edit
Zachary appears in the Zachary & Ainsley film series with his sister-in-law, Ainsley Bortz (September 20, 1941 - July 7, 2006). In the series, he is voiced by Trey Parker.
Zachary is the only male human who has sex with every female human in every episode. He and a random female human are not naked like they would do for normal sex, but he is either in his underwear, his water clothes, shirtless or nude and the female human is either in her bikini, her bra and panties, topless or nude. Sometimes Zachary or both he and the female human stay in the clothes they wore throughout the episode, or might change them before hopping into bed.

He is in his underwear or nude and the female human is either topless or nude when they have sex in every episode of Lucy, Jack and Joshua.